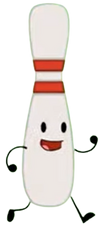 This is the page of the long lost Bowling Pin. Btw, he is a boy :P


Bowling pin in the intro
Personality
Edit
Well, Bowling Pin kind of lacks a personality. One of the reasons for this is that he has GONE MISSING. Gasp! Yes, he is gone, missing, vanished, or whatever you like to say. But we have seen him walk before, so we can automatically assume that walking is his special talent. Jk, we don't know Bowling Pin at all. Even Swimmy gets more screen time than Bowling Pin. Why? Well, stay tuned to Through the Woods and maybe you'll find out.
Appearance
Edit
Bowling Pin has so much screen time, that I'm not even gonna be able to fit it all in this paragraph! He has been seen walking! OMG! Also, he has been seen walking! Wow! And he has even been seen walking! Jaw-dropping! Well, I think that this paragraph is big enough, so I'm not gonna talk about the other amazing appearances of Bowling Pin. Yep. 
Ad blocker interference detected!
Wikia is a free-to-use site that makes money from advertising. We have a modified experience for viewers using ad blockers

Wikia is not accessible if you've made further modifications. Remove the custom ad blocker rule(s) and the page will load as expected.