Paper Cup everybody.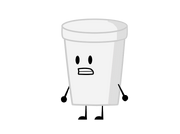 Personality
Edit
PC is quite the lazy contestant. And Paper Cup is a boy! He doesn't work in challenges at all... He doesn't really have friends, but he doesn't care at all. He is just LAZY LAZY LAZY, and he likes it.
Placed:13th
Appearance
Edit
Paper Cup doesn't get very much attention on this show, but he doesn't really want it, so it's okay. His first major appearance was in Episode 5, when he is added to the contest along with that silly Gumdrop. During the rest of the episodes, he is just seen being lazy. And dat's it.
Color Bomb
Edit
Paper Cup received the most votes at 67, eliminating him.